Zumo Crawler Chassis kit - without motor
Zumo chassis, in ABS, to make crawler robots, mini Sumo competition, line follower  
Secure payments
Payments are secured by LyraCollect, a French payment collection company.
Multiple delivery solutions
It is possible to delivered to your home, to a pick-up point or picked up by appointment at MCHobby
Parcels packed with care and efficiency
We prepare, pack and ship your orders with great respect and care.
Description
A quality crawler chassis to propel your robotic project
Pololu's Zumo chassis is a small robotic platform that is less than 10cm a side, allowing it to qualify for Mini Sumo competitions. The main body is composed of black ABS and contains a compartment for 4 AA batteries and two slots for micro gear motors metal (not included). It is delivered with two silicone tracks, two drive wheels (to be adapted to the motors) and two freewheels with axis for fixation to the platform. The kit also contains a robotic mounting plate (whose main function is to keep the motors in place and to mount your electronics, microcontroller, motor drivers, sensors, etc).    
Kit also includes the mounting screws (motors and batteries not included) 
This kit contains the elements needed to make a small, high performance robotic platform without headaches.
Motor not included
The Zumo chassis uses two motors, one for each track. The ideal motor depends mainly on the desired torque (torque: "strength" to the motor axis), the speed and the current required. This is the reason why the motors are not included with the chassis. We generally recommend the use of High Power (HP) metal gear motors since the tracks still require a descent torque to move the robot efficiently; non-HP motors (lower power) with the higher speed ratio may also be suitable but they will also be slower and offer less control. For this chassis, we recommend HP 50:1, 75:1 or 100:1 HP motors. The table below summarizes the main features of these three gear motors. apart from the motor specifications, this summary also takes the maximum speed of Zumo with this motor for a load of 0.5Kg. Note that these information are taken over for an operating voltage of 6V, which is the approximate voltage obtained with 4 Alkaline batteries; 4 AA NiMH batteries usually offer a voltage of 5V.      
Which micro motor?

Micro Gear Motor metal 50:1 High Power (Available on request)
625 rotations per minute empty (6v). Blocking current 1600mA, 0.106Nm
Max speed of Zumo: 100cm/s (6v with a load of 500gr)
Micro Gear Motor metal 100:1 High Power (Available on request)
320 rotations per minute empty (6v). Blocking current 1600mA, 0.21Nm
Max speed of Zumo: 50cm/s (6v with a load of 500gr)
Control electronics (not included)
The Zumo chassis doesn't contain control electronics, however there is a Zumo Shield for Arduino specifically designed to interface with Arduino, Arduino Uno or Leonardo. This Shield contains all the electronics needed to control the motors as well as some additional components to make interesting robots. Among the additional components, there is a buzzer to make noise, a 3-axis accelerometer and a compass. The Zumo Chassis + Zumo Shield Arduino + Zumo Blade + Motors are also available as a fully assembled and ready to use product.  
If you assemble your chassis and assemble your Zumo Shield, you will find the instructions for mounting the shield in this document (Pololu, English).
If your purpose is to create your own robot around a microcontroller other than Arduino, we recommend that you use the DRV8833 training motor driver with this chassis. You could also use an L298 (H-bridge) breakout to easily control continuous motors from a microcontroller or a Raspberry-Pi. 
Batteries (not included)
This chassis works with four AA batteries, we recommend the use of AA NiMH rechargeable batteries that produce a nominal voltage of 4.8V (1.2V per battery). When the batteries are fully charged we are above 5V and when they are almost flat, they are well below 5V. Therefore you should consider the use of a step-up/step-down voltage regulator to power the control logic to ensure a stable voltage at 5V even if the battery voltage is above or below 5V. You can also use Akaline batteries that produce a nominal voltage of 6V (and whose voltage drops depending on the load).  
Dimensions
Fully assembled, the Zumo chassis is 98mm wide, 86mm long and 39mm high. The Zumo is about 5mm above the ground.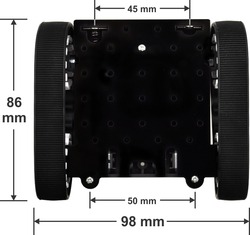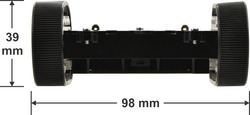 Each side is less than 10cm, this chassis fits therefore in the requirements Mini-Sumo. The screws at the front are used to mount the acrylic plate on the chassis. You can also use these fixing screws to place a blade (you still have 14mm if you want to stay in the limits imposed by the Mini-Sumo rules). 
The assembled Zumo chassis + motor + batteries is around 210gr. 
Contain
ABS chassis with housing for 4 AA batteries (+connections)
Mounting plate for robotic project.
2 silicone treads
2 drive wheels (for axis 3mm D)
2 free wheels with fixing screws
Fixing screws.
Motors, control electronics, motor drivers, blade, accumulators/batteries not included. These elements are used for illustrative purposes.
Resources
PiBot-B: Mobile robot with a Raspberry-Pi
This robot uses a Raspberry Pi and a Zumo chassis, all controlled remotely by iPhone (WiFi). The page is written in German but has a link to Google Translate that facilitates translations.
Raspberry Zumo (Frédéric Jelmoni, French)
On the Pololu website, we also learn that Frédéric Jelmoni wrote an article in French to make a robot from a Zumo chassis.
Tip and trick: Zumo robot focus
This article was written by the professor Erich Styger for his course on Embedded Systems Programming (University of Arts and Applied Sciences Lucerne). He describes various processes to optimize the performances of Zumo so that it is more competitive during Mini Sumo competitions. Note that Mr Styger's Zumo made his own Arduino card. The Pololu Zumo Shield is equipped with many capacities in parallel with the power supply, this counterbalance the battery inertia problem described by Mr Styger.