Gravity : 27 sensor kit (Arduino)
27 Gravity sensors
Fast connection (Gravity)
8 Digital modules
12 Analog modules
2 Special modules
Secure payments
Payments are secured by LyraCollect, a French payment collection company.
Multiple delivery solutions
It is possible to delivered to your home, to a pick-up point or picked up by appointment at MCHobby
Parcels packed with care and efficiency
We prepare, pack and ship your orders with great respect and care.
Description
Set of 27 DFRobot's gravity sensors for rapid prototyping with Arduino
Want to start quickly with Arduino prototyping and sensor... but don't want of the wiring mess and iron soldering? You just find a great sensor starter kit for Arduino project. This sensors set for Arduino includes sensors for light, gas, sound, touch, distance, accelerometer and more.
These sensor can be connected to an Arduino with the Gravity IO expansion shield V7.1 for Arduino which feature color coded connector that providesfast and easy way to connect sensor on the microcontroler.
This kit includes the following sensors:
1x Relay Module V2 (DFR0017)
1x Digital RED LED Light Module (DFR0021R)
1x Digital White LED Light Module (DFR0021)
1x Digital Green LED Light Module (DFR0021G)
1x Digital Blue LED Light Module (DFR0021B)
1x Analog Grayscale Sensor (DFR0022)
1x LM35 Analog Linear Temperature Sensor (DFR0023)
1x Analog Ambient Light Sensor (DFR0026)
1x Digital Vibration Sensor (DFR0027)
1x Digital Tilt Sensor (DFR0028)
1x Digital Push Button (DFR0029)
1x Capacitive Touch Sensor (DFR0030)
1x Digital magnetic sensor (DFR0033)
1x Analog Sound Sensor (DFR0034)
1x Analog Carbon Monoxide Sensor (MQ7) (SEN0132)
1x Analog Voltage Divider (DFR0051)
1x Piezo Disk Vibration Sensor (DFR0052)
1x Analog Rotation Sensor V2 (DFR0058)
1x Joystick Module (DFR0061)
1x Flame sensor (DFR0076)
1x Triple Axis Accelerometer MMA7361 (DFR0143)
1x Digital Infrared motion sensor (SEN0018)
1x Sharp GP2Y0A21 Distance Sensor (10-80cm) (SEN0014)
1x Soil Moisture Sensor (SEN0114)
1x Digital Push Button (Red)(DFR0029-R)
1x Digital Push Button (White)(DFR0029-W)
1x Steam Sensor (SEN0121)
Tutorials
Wiki page (DFRobot, english)
Just type the sensor code (eg: SEN0121) in the top search box to find the tutorial.
About the gravity connection
The Gravity is a modular and plug and play electronic toolkit made for easy use (no soldering). Gravity is suited for any king of skill level and can be used with DFRobot board or with standard propotyping devices.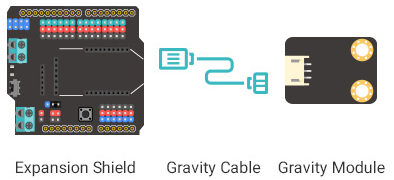 The Gravity sensor board features a JST connector and microcontroler side features a molex 2.54mm spacing female connector. The Gravity cable includes with the gravity module (the sensors) can also use the 2.54mm connector to connect the sensor directly on ANY KIND of microcontroler or prototyping materiel (glorious!).
To made it simple, the Gravity connector and expansion shields use color coded pins:
Red & Black : +Vcc & Ground
Blue : Analog input
Green : Digital input/output
Gravity is even made simplier for kids with gravity expansion for Micro:bit since it feature the JST connectors on the both side of gravity cable (micro:bit side and sensor side). MicroPython addicted would be pleased with the Gravity Skin for Pyboard and Raspberry-Pi lover will appreciate this Gravity Epansion Hat.