MOD-IO : UEXT Expandable Input/Output board
UEXT Expansion board
4 relays,
4 optoisolated digital inputs (24v tolerant),
4 analog inputs
I2C Interface
Supply: 8-30VDC
Secure payments
Payments are secured by LyraCollect, a French payment collection company.
Multiple delivery solutions
It is possible to delivered to your home, to a pick-up point or picked up by appointment at MCHobby
Parcels packed with care and efficiency
We prepare, pack and ship your orders with great respect and care.
Description
Add relais & optoisolated entries via I2C interface
(to-rephrase)
MOD-IO adds analog and digital inputs and outputs to any of our development boards using I2C bus. Easy to wire with UEXT connector, the MOD-IO is stackable.
If you work with any development boards exposing UEXT connector, you can easily add more digital and analog inputs/outputs. This board allows easy interfacing to 4 relays, 4 optoisolated digital inputs, 4 analog inputs.
MOD-IO is stackable and addressable, what does this mean? It means that these boards can plug together (or with other UEXT board) so that you can add as many inputs and outputs as you want! The MOD-IO has an ATmega16 microcontroller and the firmware is available for modification.
What's UEXT ?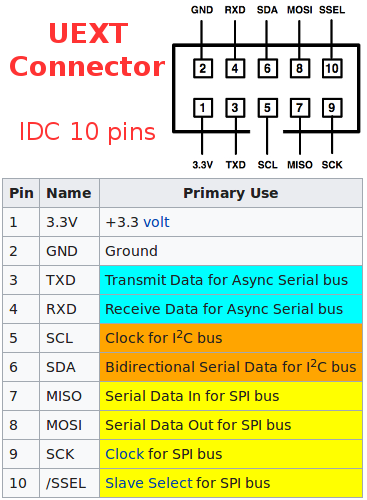 UEXT is a connector carrying I2C bus + SPI bus + Serial + 3.3v power. It use a very standard 10 Pin IDC connector. It is quite easy to add sensors and extension board with UEXT connector... just plug it or wire it with IDC ribbon! Great.
Our favorite is the carrying of I2C bus allowing to easily add several sensors and expansion board. On the other side, SPI would be welcome for fast data transmission like remote screen. The serial connexion could be made compatible with RS-232, RS-422, RS-485, DMX512, MIDI by using appropriate level-shifting circuitery.
This connector is usually available on almost Olimex's product including nano computers. It is a great way to add extension boards on products like ESP8266 WiFi microcontroler or microcontroler board. UEXT is suited for prototyping, school learning (no need for iron) and industrial solution (Olimex produces Industrial Grade boards).
See our UEXT expansion or all products exposing UEXT connector on the shop, the Olimex's UEXT collection, Wikipedia to learn more about UEXT.
Technical details
Open source hardware board with ATmega16L-8AU microcontroller
ICSP 5x2 pin connector for in-circuit programming with AVR-PG1, AVR-PG2, AVR-ISP500, AVR-ISP500-TINY, AVR-ISP500-ISO or other compatible to 10 pin ICSP layout
JTAG 5x2 pin connector for in-circuit programming with AVR-JTAG, AVR-JTAG-USB or other compatible to 10 pin JTAG layout
EXT extension connector for the unused AVR ports
Status LED
Reset IC ZM33064
Quartz crystal oscilator circuit 8MHz
DC-DC with input voltage 8-30VDC - this board can be powered from 24V industrial power supplies
Power plug-in jack
4-optocoupler isolated inputs with screw terminals
Input status LEDs
4-relay outputs with 5A/250VAC contacts with screw terminals
Output status LEDs
Four mounting holes 3.3 mm
Dimensions 80x100 mm
Hardware specs
Software