Un modem WiFi ESP8266 et/ou ESP8266 pour Arduino IDE
MOD-WIFI-ESP8266 est la mise en oeuvre de l'ESP8266 par Olimex Ltd avec une mémoire Flash de 2Mo, de quoi être plus à l'aise pour ses développement. Faire le choix d'Olimex, c'est opter pour la qualité et la pérennité de la gamme.
La version Olimex de l'ESP8266 est directement référencé dans la liste des cartes lorsque vous installez le support ESP8266 sur Arduino IDE (voyez le détail de ce produit pour plus d'information sur le support Arduino IDE).
Déjà flashé avec le firmware "AT Command"
Vous pouvez bien entendu reflasher ce module mais son principal intérêt est de proposer un Modem WiFi supportant des commandes AT!
Vous pouvez donc apporter la fonctionnalité WiFi à tout microcontrôleur/projet disposant d'un port série (UART). Grâce à sont connecteur UEXT (bien documenté), il est très facile à brancher sur vos microcontrôleurs... si vous disposez d'un port UEXT alors il suffit simplement de l'enfoncer dans le connecteur!
Qu'est-ce que UEXT ?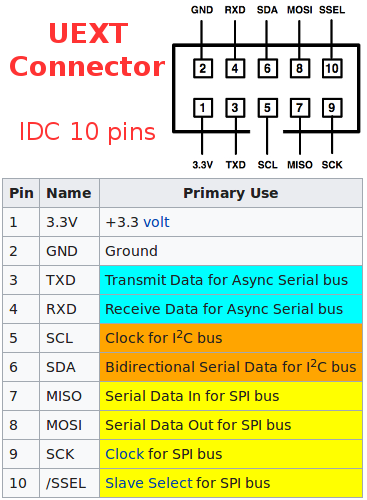 UEXT est un connecteur qui transporte les signaux d'un bus I2C + bus SPI + Série + alimentation 3.3v. Ce connecteur utile un connectique standardisée IDC 10 broches, rien d'exotique ;-).
Avec UEXT, il est très facile d'ajouter des senseur et des cartes d'extension... il suffit simplement de les brancher ou de raccorder un câble IDC 10 broches, Simplissime!
Parmi nos favoris, il y a le transport du bus I2C permettant d'ajouter facilement plusieurs senseurs ou cartes d'extension (les cartes disposent d'une adresse sur un bus I2C, cela permet d'éviter les collisions de communication). D'un autre côté, le bus SPI permettant des transmissions de données à grande vitesse, ce qui est idéal pour des périphériques tels que des écrans TFT. Le port série (commication asynchrone) peut être rendu compatible avec les standard RS-232, RS-422, RS-485, DMX512, MIDI en utilisant une circuiterie de level-shifting appropriée.
Les connecteurs UEXT sont habituellement disponibles sur les produits Olimex, incluant leurs nano-ordinateurs. UEXT est un approche fantastique pour ajouter des cartes d'extension sur des produits tels que le Microcontrôleur WiFi ESP8266 ou autres cartes microcontrôleurs. UEXT est très bien adapté pour le prototypage, l'apprentissage scolaire (pas besoin de fer) et solutions industrielles (Olimex produit des cartes de niveau "Industrial Grade").
Voyez nos extension UEXT ou tous les produits exposant un connecteur UEXT sur le shop, la collection UEXT chez Olimex (import sur demande), UEXT sur wikipedia.
Qu'est ce qu'un ESP8266
ESP8266 est un SOC (System On Chip... système sur une puce) à très haute intégration qui inclus un processeur Xtensa LX106, de la mémoire RAM et un support RF permettant d'implémenter une pile TCP-IP WiFi sur un carte avec un ESP8266 et quelques composants complémentaires. l'ESP8266 est un SoC appelé à devenir très populaire et est toujours la source de nombreuses attention.

Le MOD-WIFI-ESP8266 est une petite carte avec antenne intégrée et un connecteur UEXT (voir ci-dessous).
Le connecteur UEXT est standardisé, il permet:
Le module MOD-WIDI-ESP8266 met en oeuvre le fameux module WiFi ESP8266 en mode UART (série). Ce module permet à toutes vos cartes de développement d'avoir facilement accès au réseau WiFi à l'aide d'un ensemble de commande AT. Le module ESP8266 d'Olimex est équipé de 2 Méga de mémoire FLASH SPI (loin des module concurrent qui ne vont généralement pas au delà de 512 Kb).

L'idée derrière le MOD-WIFI-ESP8266 est de pouvoir facilement réaliser une extension WiFi pour vos cartes existantes mais aussi les cartes Olimex existantes (qui sont généralement équipées de connecteur UEXT, c'est aussi la raison de la présence d'un connecteur UEXT). Vous le branchez sur n'importe quel carte disposant d'un connecteur UEXT et la connexion matériel est réalisée.
Comme cela est visible sur le schéma du module (voyez les images produit et la section documentation), seules les broches suivantes sont raccordées sur le connecteur UEXT:
Broche #1 : 3.3 Vcc,
Broche #2 : GND/masse
Broche #3 : RXD
Broche #4: TXD
Cela signifie que seule l'interface de donnée UART est disponible. Les autres broches de la puce ne sont pas routée et facilement accessible sur le connecteur UEXT - si vous avez besoin de plus de signaux, vous devriez considérer l'utilisation d'un ESP8266 de développement ou même une carte d'évaluation ESP8266.
Les GPIO 4 et 5 sont accessibles directement sur la carte (via deux pastilles de connexion sur la carte).
Il est possible de faire la mise-à-jour du Firmware, vous aurez juste besoin de changer la position des cavaliers CMS (voyez, ci-dessous, les liens vers la documentation Olimex).
La carte propose un connecteur UEXT permettant de brancher l'un des senseurs et cartes d'extension UEXT disponible sur le shop (ou disponible chez Olimex).
Fonctionnalités
802.11 b / g / n
Connexion Wi-Fi Directe (P2P), Point d'accès logiciel (soft-AP)
Inlus une pile TCP / IP.
Inclus switch TR, balun, LNA, amplificateur de puissance
PLL inclus, régulateur de tension et composant de gestion de l'alimentation.
PPL : Phase Locked Loop (Wikipedia), Boucle à phase asservie (wikipedia).
Mode 802.11b + puissance de sortie à 19.5dBm.
Senseur de température intégré.
Courant de perte inférieur à 10µA
Processeur 32 bits basse consommation (peut également être utilisé comme processeur applicatif).
UART (interface Port Série)
A-MPDU, agrégation A-MSDU, réveil rapide (connecté et transfert de donnée en 2ms).
Consommation en mode standby inférieur à 1.0mW (DTIM3)
Documentation
Matériel
Logiciel
ESP8266 et Arduino IDE
Voici une nouvelle qui ravira les Arduinistes.
L'ESP8266 n'est jamais qu'un microcontrôleur (RISC) et quelques développeurs de a communauté ont eu l'idée génial d'ajouter le support de l'ESP8266 dans Arduino IDE. Depuis Arduino 1.6.4 le Board Manager permet d'ajouter le support de l'ESP8266 pour programmer votre ESP8266 comme un Arduino. Vous disposez donc de deux GPIO.
Pour ajouter le support ESP8266, allez dans les préférences d'Arduino IDE, section "Additional Board Manager URLs" vous spécifiez l'URL http://arduino.esp8266.com/package_esp8266com_index.json .
Ensuite, dans le menu Outils > Type de carte > Board Manager, vous pouvez installer le support "esp8266 by ESP8266 Community". Vous trouverez alors une carte de type "Generic ESP8266 Module" dans la liste des cartes supportées.
Voyez également le tutoriel Adafruit "Adding Custom Boards to the Arduino v1.6.3 Board Manager" (Adafruit, anglais)
FAQ
C'est quoi ce connecteur UEXT?
Rassurez-vous, rien de magique dans le connecteur UEXT. C'est un connecteur qui supporte 3 types d'interface de communication série - I2C, SPI et RS232. C'est une chouette approche pour étendre les fonctionnalités d'une carte de développement.
Comment puis-je envoyer des commandes AT sur la carte?
Les cavaliers de la carte doivent se trouver en mode FLASH (défaut). Vous aurez soit besoin d'un câble capable d'alimenter la carte ESP8266 OU d'une solution permettant de dédoubler la connexion de la broche GND. Si vous utilisez une alimentation séparée d'un côté et un câble série de l'autre, vous devez absolument avoir une masse commune entre le circuit d'alimentation et le circuit de communication. Comme le connecteur UEXT ne dispose que d'une seule broche GND, vous devez donc prendre vos dispositions pour dédoubler la ligne GND.
Il est très facile de brancher le module sur un ordinateur si vous utilisez un cable USB-Série-TTL (celui que nous proposons utilise des signaux 3.3v comme recommandés pour cette carte). Il faut néanmoins alimenter le module ESP8266 avec une régulateur 3.3V.
Comment fournir une alimentation 3.3V stable au module?
Nous avons utilisé un régulateur de tension LD1117 pour produire 800mA a une tension 3.3V bien lissée.
Voyez le schéma de câblage dans les images de notre fiche produit.

J'envois des commandes AT simple mais je reçois toujours la réponse "ERROR". Quel est le problème?
Les commandes sont sensible à la case. Assurez-vous que toutes les commandes soit en majuscule.
Est-il possible de faire une mise-à-jour du Firmware?
Oui, vous aurez juste besoin de changer la position des cavaliers CMS. Voyez la documentation Olimex référencée dans cette fiche produit (section "Documentation").
Le GPIO est disponible sur un cavalier SMD au recto de la carte et déjà pré-configurée au niveau logique 1 (avec un pont de soudure).
Pour pouvoir activer le bootloader, le GPIO 0 doit être placé au niveau bas au moment de la mise sous tension. Pour se faire, vous devez retirer la pont de soudure (max 10s de chauffe au fer à souder) puis placer un connecteur/cavalier permettant de basculer le signal de GPIO 0 entre 0 et 1.
Attention: cette opération de soudure est très délicate compte tenu de la taille des pastilles!
Evaluation Board/Kit Important Notice
The original text evaluation-board-notice is available at Olimex.
OLIMEX Ltd provides the enclosed product(s) under the following conditions:
This evaluation board/kit/module is intended for use for ENGINEERING DEVELOPMENT, DEMONSTRATION OR EVALUATION PURPOSES ONLY and is not considered by OLIMEX Ltd to be finished end-product fit for general consumer use. Persons handling the product must have electronics training and observe good engineering practice standards. As such the goods being provided are not intended to be complete in terms of required design-, marketing-, and/or manufacturing related protective considerations, including product safety and environmental measures typically found in the products that incorporate such semiconductor components or circuit boards. This evaluation board/kit/module does not fall within the scope of the European Union directives regarding electromagnetic compatibility, FCC, CE or UL and therefore may not meet the technical requirements of these directives or other related documents.
The user assumes all responsibility and liability for proper and safe handling of the goods. Further the user indemnifies OLIMEX from all claims arising from the handling or use of the goods. Due to the open construction of the product, it's the user responsibility to take any and all appropriate precautions with regard to electrostatic discharge, conducted and radiated emissions.
EXCEPT TO THE EXTENT OF THE INDEMNITY SET FORTH ABOVE NEITHER PARTY SHALL BE LIABLE TO THE OTHER FOR ANY INDIRECT SPECIAL INCIDENTAL OR CONSEQUENTIAL DAMAGES.