Black/white display, 84x48 px, Nokia 3310
Nokia 3310 LCD Display
84 x 48 pixels
Black & White
UEXT
Secure payments
Payments are secured by LyraCollect, a French payment collection company.
Multiple delivery solutions
It is possible to delivered to your home, to a pick-up point or picked up by appointment at MCHobby
Parcels packed with care and efficiency
We prepare, pack and ship your orders with great respect and care.
Description
Nokia 3310 display, 84x48 pixels in black and white for your projects
MOD-LCD3310 is a development board with a UEXT universal connector. It can be attached and it adds LCD functionality to all other development boards.
Technicals details
NOKIA3310 B/W LCD,
84x48 pixels
0.1" step connectors for plug-in on top of other PCB
Dimensions: 39x35 mm
UEXT to connect to host microcontroller
Nokia 3310 LCD (fiche technique)
What is UEXT connector?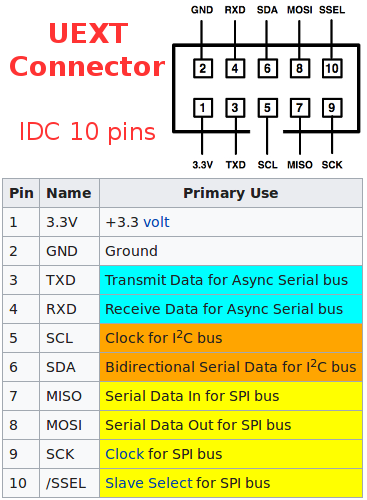 UEXT is a connector that ships many signals for I2C bus + SPI bus + Serial bus + 3.3v power. This connector is uses a standardized IDC 10 pins connectors, very common ;-).
Thank to UEXT, it is quite easy to append sensor and expansion boards... just plug it with the IDC cable and it is ready to use!
Our favorite is the I2C bus allowing to append many sensors over only 2 wires (each sensors or boards have its own and unique I2C address on the bus). The SPI bus available on the connector can be used to transfert data hat highly high speed, really great for TFT display. The serial port / UART (asynchronous communication) can be made compatible with the RS-232, RS-422, RS-485, DMX512, MIDI standard by using the adequate level-shifting circuitery.
The UEXT are available on many of the Olimex product made by Olimex Ltd (also on their nano computers). UEXT is a fantastic connector to append expansion to boards ans projects like WiFi ESP8266 or other microcontroleurs. UEXT is very well suited for prototyping, learning (no need to solder) and industrial solutions (as Olimex produces "Industrial Grade" board).
See our UEXT expansions or all the product exposing an UEXT connector on the shop, Olimex also have a complete collection of UEXT board (available on request),  UEXT on wikipedia.