Environmental sensor all-in-one - BME280 + CCS811
Environmental sensor with UEXT connector
BME280 - Temperature, Humidity, Athmospheric pressure
CCS811 - eCO2 (Equivalent Carbon Dioxyd), VOC (Volatile Organic Compound)
Interface I2C
MicroPython ready
Secure payments
Payments are secured by LyraCollect, a French payment collection company.
Multiple delivery solutions
It is possible to delivered to your home, to a pick-up point or picked up by appointment at MCHobby
Parcels packed with care and efficiency
We prepare, pack and ship your orders with great respect and care.
Description
MOD-ENV the environmental sensor measuring air quality and athmospheric data
A complete air quality and environmental data measurement station combining two sensors, the BME280 from Bosh and the CCS811 from AMS on a single breakout.
These two sensors using the I2C bus, only two pins of the microcontroller are necessary to obtain the data (SDA and SCL lines). As this breakout uses the standardized UEXT connector, it's very easy to connect this breakout on microcontroller boards (or nanocomputers) exhibiting this connectic (see our projects   Pyboard-Uno-R3, UEXT adapter for Pyboard and all Olimex products exhibiting a UEXT connector.
The CCS811 component makes it possible to assess the quality of aid thanks to:

eCO2 detection (Carbon Dioxide equivalent)
detection of volatile organic compounds (VOC / VOC)
By providing additional information to the CCS811 (air temperature and humidity), it is even able to improve the accuracy of its readings. You can get many details about the CCS811 on the product sheet of the breakout CCS811 from Adafruit Industries.
The BME280 component allows you to measure:
Atmospheric pressure
Relative humidity
Temperature
The humidity and temperature information makes it possible to improve the accuracy of the CCS811's readings, but this meteorological information is also useful for carrying out weather readings and evaluating comfort indices. A sudden change in atmospheric pressure will cause air movements, which will allow pollution to be evacuated if the pressure increases or precisely bring in neighboring pollution (eg industrial zoning) if the pressure drops.
Similarly, humid air (above 80%) greatly reduces the comfort index and makes it quick to transport certain types of particles that can associate with water molecules.
It is possible to obtain more information on this sensor on the product sheet of the Il est possible d'obtenir plus d'informations sur ce capteur sur la fiche produit du BME280 breakout from Adafruit Industries.
What's UEXT ?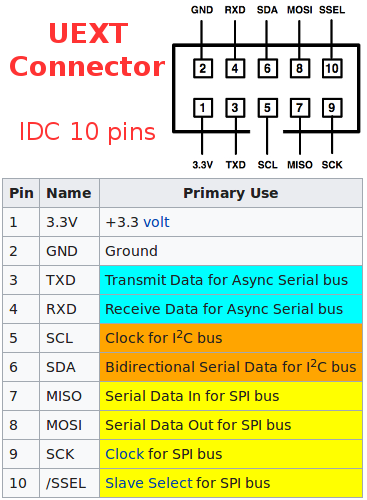 UEXT is a connector carrying I2C bus + SPI bus + Serial + 3.3v power. It use a very standard 10 Pin IDC connector. It is quite easy to add sensors and extension board with UEXT connector... just plug it or wire it with IDC ribbon! Great.
Our favorite is the carrying of I2C bus allowing to easily add several sensors and expansion board. On the other side, SPI would be welcome for fast data transmission like remote screen. The serial connexion could be made compatible with RS-232, RS-422, RS-485, DMX512, MIDI by using appropriate level-shifting circuitery.
This connector is usually available on almost Olimex's product including nano computers. It is a great way to add extension boards on products like ESP8266 WiFi microcontroler or microcontroler board. UEXT is suited for prototyping, school learning (no need for iron) and industrial solution (Olimex produces Industrial Grade boards).
See our UEXT expansion or all products exposing UEXT connector on the shop, the Olimex's UEXT collection, Wikipedia to learn more about UEXT.
Technical details
Digital air quality sensor measuring CO2 from 400ppm up to 29206 ppm
Digital precise temperature measurement from -40 to +85C
Digital precise air pressure measurements from 300 to 1250 hPa
Digital precise humidity measurement 0-100% Rh
UEXT connector and cable, compatible with all Olimex boards with UEXT
Low power
BME280 datasheet (Bosh, English)
CCS811 datasheet (AMS, English)