OLED display 128 x 64 with I2C and UEXT interface
OLED display with UEXT connector
OLED screen SSD1306
128x64 pixels
27x11mm
3.3V power supply
I2C Interface
Secure payments
Payments are secured by LyraCollect, a French payment collection company.
Multiple delivery solutions
It is possible to delivered to your home, to a pick-up point or picked up by appointment at MCHobby
Parcels packed with care and efficiency
We prepare, pack and ship your orders with great respect and care.
Description
128x64 OLED display with I2C interface
MOD-OLED-128x64 is low cost, low power, high contrast LCD display with UEXT connector. You can control it via I2C. The power supply required is only in range 1 µA in sleep mode, 200 µA in operating mode and 7mA in display ON mode.
View area is 21 x 11 mm for 128 x 64 pixels.The great think about OLED is that it does not require any light source to work because each pixel produce its own light. This is the reason why OLED screen does have a so good contrast for reading.
The 4 pin header is provided on the back for alternate wiring. So you can soldered a connector to use the MOD-OLED-128x64 with breadboard.
What's UEXT ?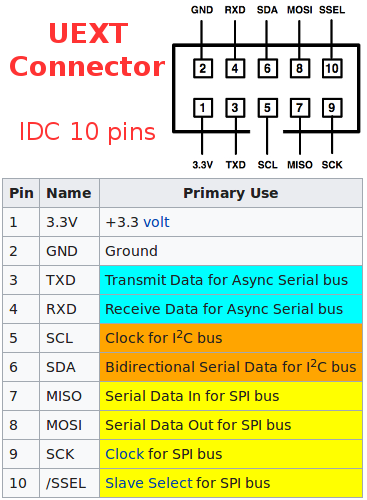 UEXT is a connector carrying I2C bus + SPI bus + Serial + 3.3v power. It use a very standard 10 Pin IDC connector. It is quite easy to add sensors and extension board with UEXT connector... just plug it or wire it with IDC ribbon! Great.
Our favorite is the carrying of I2C bus allowing to easily add several sensors and expansion board. On the other side, SPI would be welcome for fast data transmission like remote screen. The serial connexion could be made compatible with RS-232, RS-422, RS-485, DMX512, MIDI by using appropriate level-shifting circuitery.
This connector is usually available on almost Olimex's product including nano computers. It is a great way to add extension boards on products like ESP8266 WiFi microcontroler or microcontroler board. UEXT is suited for prototyping, school learning (no need for iron) and industrial solution (Olimex produces Industrial Grade boards).
See our UEXT expansion or all products exposing UEXT connector on the shop, the Olimex's UEXT collection, Wikipedia to learn more about UEXT.
Technical details
UEXT connector
UEXT female-female cable included
4 pin header for breadboard
27x11 mm view area
High contrast
I2C controllable
3.3V power supply line (4V absolute maximum)
7 mA current with display ON, 1uA sleep mode
Hardware specification
Software details