Pico-Hat... plug and drive HATs with your Pico
This interface board allows to re-use your existing Raspberry-Pi HATs with your Pico. So, you do not need to buy new devices/sensors for your Pico... just reuse existing board you already have.
Designed for STEM and learning, the PICO-HAT features:
A double row to duplicates all the Pico's pins. Great for prototyping with the Pico.
Every pin is labelled with the Pico Pico label and main pin function.
Every IO on the RPi connectors is populated (main buses UART,SPI,I2C are attached to a corresponding Pico bus).
The UEXT connector (robust and easy to wire) allows you to quicly plug expansion boards (relais board, sensors, LCD screen). See the UEXT line at MCHobby or UEXT line at Olimex. MCHobby does writes many MicroPython drivers for UEXT boards.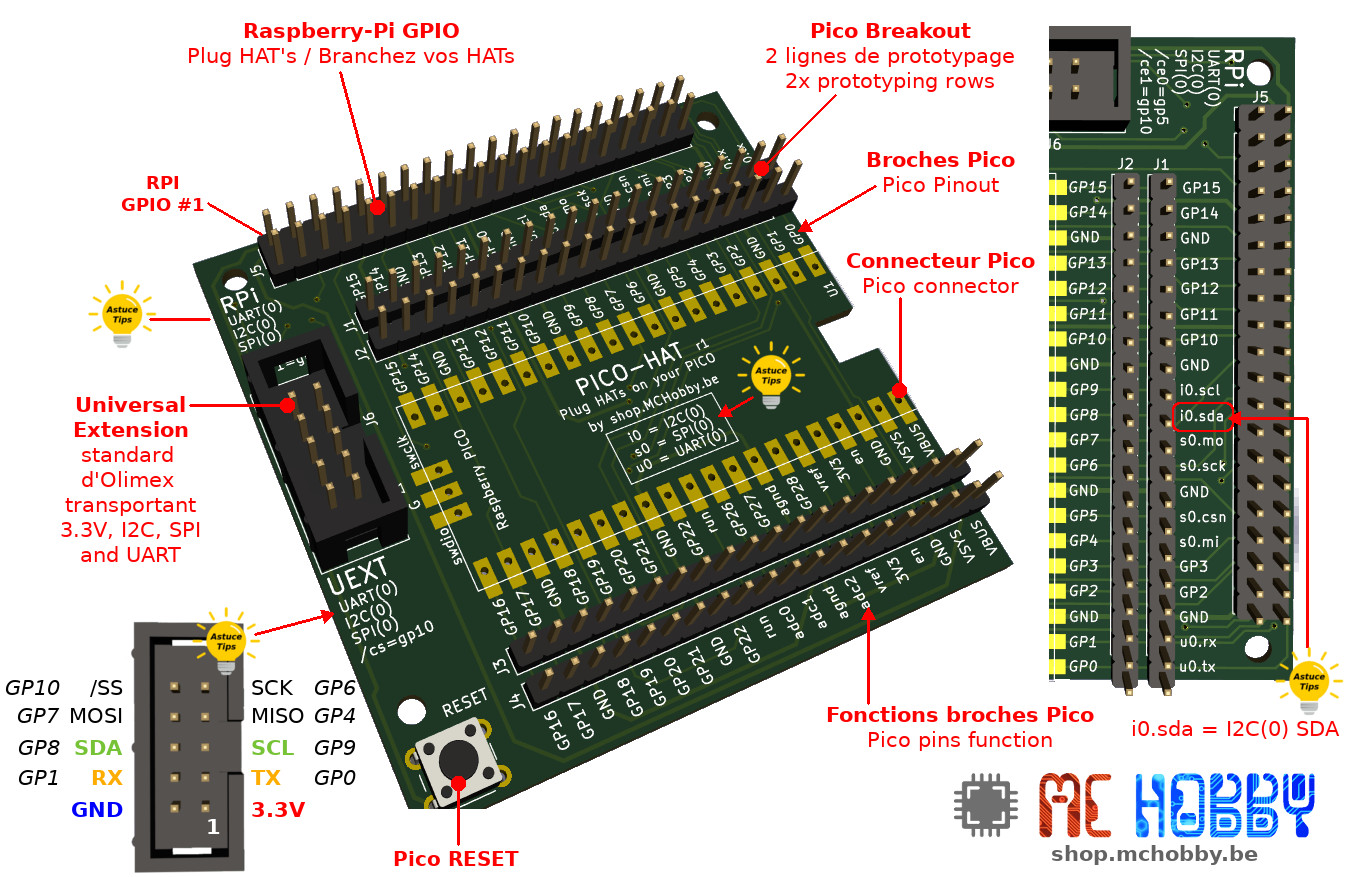 The Pico board can be soldered directly onto the board but 20 pins female connectors (not included) can also be used to freely plug/unplug your pico from the board.
When prototyping + using HAT then you can also consider the usage of gpio expansion cable to move the HAT appart from the board while prototyping.
The best advantage of this Pico-HAT board is... its HAT compatible GPIO, an interface properly documented on the picture here below.
As we do have HATs availables, we did manage the MicroPython driver for some populars hats:
Content
For each order, you will receive the Pico-Hat kit containing: the Pico-Hat board, a 2x20 pins connector (for the RPI GPIO), two full length pinHeaders (for prototyping) and an UEXT connector (10 pins IDC conn.).
The Raspberry-Pi Pico, Hats and GPIO's expansion ribbon are not included.