Discover the world of robotic with the Micro:bit and the Maqueen robotic plateform
Hello, my name is Maqueen, is a graphical programming robot for STEM education, which inherits playability and simple operation of micro:bit. The Mini-body, interesting features and plug-and-play allow children to quickly learn graphic programming in entertaining, nurturing children's interest in science and logical thinking.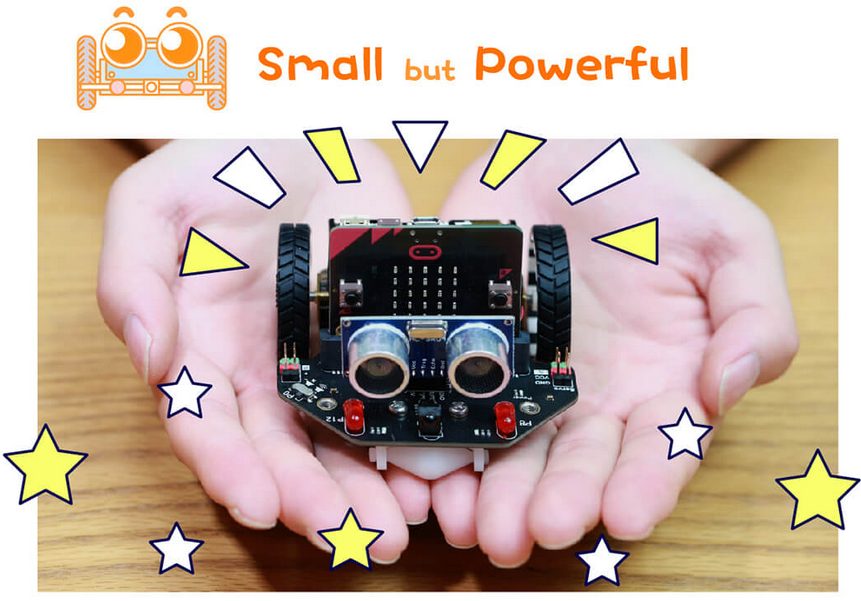 Maqueen is easy to assemble and should not requires only one minute to get it completely assembled. This produit is suited from age: 8+ (with help of teacher).
Once assembled, the Maqueen is ready for several activities

This product requires a Micro:bit to work.
How to program the Maqueen
Once the Micro:bit inserted onto the Maqueen, the robot can be programmed with Mind+ Programming platform now. Mind+ is a Scratch3.0-based graphical programming platform from DFRobot, supporting python, Arduino and other programming platforms.
At present, Mind+ has been applied to all kinds of sensors, modules and related educational products.
Mind+ can be downloaded from the landing page of the product on the DFRobot product page.
Content
For each order, you will receive a pre-assembled Maqueen, wheels, ultrasonic sensor, power bloc and user manual. The Micro:Bit is not included but you can find MicroBit here on our shop.
Tutorial