MOD-BME280 - Temperature/Humidity/Pressure sensor
Temperature - ±1°C accuracy
Athmospheric pressure - ±1 hPa absolute accuracy
Relative Humidity - ±1% accuracy
I2C (only)
1.8V to 3.3V

Secure payments
Payments are secured by LyraCollect, a French payment collection company.
Multiple delivery solutions
It is possible to delivered to your home, to a pick-up point or picked up by appointment at MCHobby
Parcels packed with care and efficiency
We prepare, pack and ship your orders with great respect and care.
Description
Atmospheric pressure, humidity, temperature sensor with UEXT / I2C interface
Bosch has intensified its work on its sensors to offer us the BME280, an environmental sensor for measuring temperature, barometric pressure and humidity! This sensor will be ideal for making small weather stations or sensitive to the environment project. The best for last, it can be used in I2C and SPI! 

This Bosch precision sensor is the best "low-cost" sensor solution that measure moisture with ±3% accuracy, barometric pressure with absolute accuracy of ±1hPa, and temperature accuracy of ±1.0°C. Since the pressure changes with altitude, and the pressure measurement is so good, that you can also use this sensor as an altimeter with an accuracy of ±1 meter (or better)!    

The BME280 is part of the next generation of Bosch sensors and represents the evolution of the BMP085/BMP180/BMP183 - with a reduced noise on the altimeter (0.25m) with a conversion time always fast.
Whereas the BME does support the I2C & SPI interface, this UEXT module only breakout the I2C interface.

A great sensor! Olimex did make the necessary to fit a pinHeader (for breadboarding) and fit an UEXT connector for fast prototyping.
More information on the product sheet of the manufacturer.
What's UEXT ?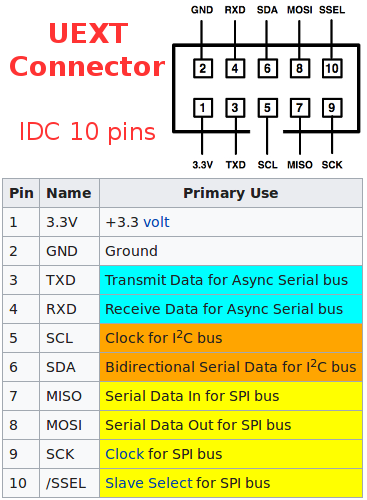 UEXT is a connector carrying I2C bus + SPI bus + Serial + 3.3v power. It use a very standard 10 Pin IDC connector. It is quite easy to add sensors and extension board with UEXT connector... just plug it or wire it with IDC ribbon! Great.
Our favorite is the carrying of I2C bus allowing to easily add several sensors and expansion board. On the other side, SPI would be welcome for fast data transmission like remote screen. The serial connexion could be made compatible with RS-232, RS-422, RS-485, DMX512, MIDI by using appropriate level-shifting circuitery.
This connector is usually available on almost Olimex's product including nano computers. It is a great way to add extension boards on products like ESP8266 WiFi microcontroler or microcontroler board. UEXT is suited for prototyping, school learning (no need for iron) and industrial solution (Olimex produces Industrial Grade boards).
See our UEXT expansion or all products exposing UEXT connector on the shop, the Olimex's UEXT collection, Wikipedia to learn more about UEXT.
Technical details
Dimension: 19.0mm x 18.0mm x 3.0mm
Weight: 1.0gr
1.8V to 3.3V
I2C interface only