PI400 KIT ready to use - IT learning and STEM prototyping for the mass
This product is kit around the Raspberry-Pi 400 in QWERTY version, ENGLISH booklet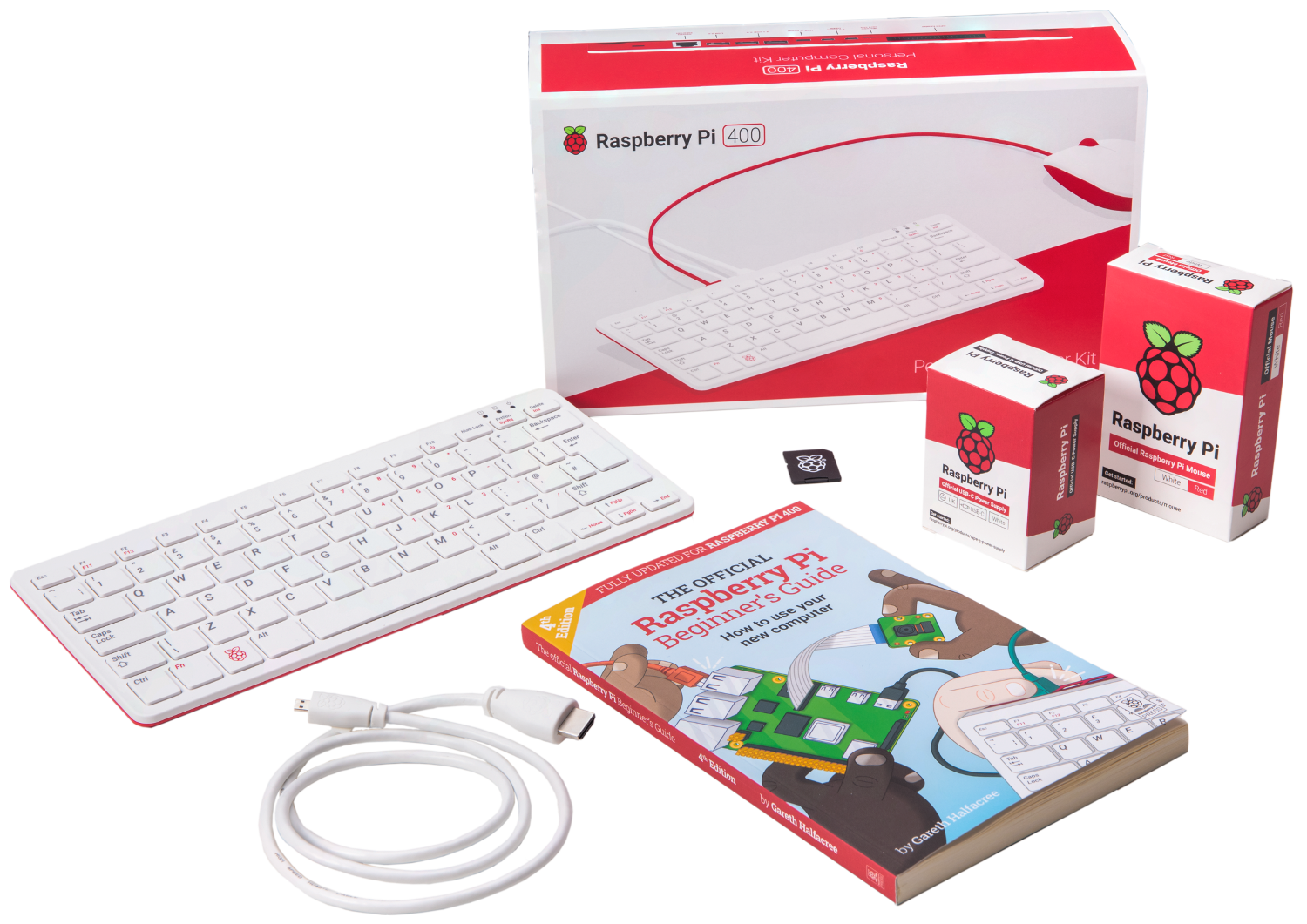 This kit is made of the following items:
What is the PI400 ?
The Raspberry 400 is a wonderful piece of technology embedding a Raspberry-Pi 4 inside an official Raspberry-Pi keyboard.
Some DIY tentatives already placed a Pi A+ inside the keyboard, this time the foundation did something better by inserting a Raspberry Pi 4, 4Go de RAM inside the keyboard by keeping all the peripheral availables in the back of the keyboard... a Raspberry-Pi made for IT technology learning, electronic programming and wich is easy to ship.
The good new is that the Pi400 inherits from the Raspberry-Pi 4 which offer many advantages as the support for Raspberry-Pi OS and acces to the many software availables .
The Pi400 offers the following comnexions:
Gigabit Ethernet
USB 2 (the other USB 2 is used for the keyboard)
2x USB 3 (great for Hard Drive and other high speed periphérals)
2x port HDMI micro
The GPIO (great for prototyping)
The MicroSD slot is available next to the GPIO and is still used for the operating system. This is a push-push connector, you will need to push on the SD card to activate the eject mecanism.
WiFi and Bluetooth as the introduced since Pi3 is still available on the Pi 400, the antenna is placed on the bottom left part of the GPIO.
A Kensington anti-thief opening on the back of the keyboard (The Pi400 is quite easy to bring off the desk).
The Pi400 also have a On/Off switch directly available on the keyboard.

Note: this product is shipped in QWERTY layout
Want to know more about the the PI400? Please read the Raspberry PI400 product sheet.
Want to do some electronic prototyping with the Pi 400?
We strongly recomment the expansion board for Pi400. It is an affordable and damned useful board for electronic prototyping. Every GPIO pins are labelled!
Pi400 & Home Assistant
Please note that the Home Assistant (HASS) is not yet compatible with the Pi400 (but is compatible with the Pi 4).
Legal documents