2.8" touch display, Color, 320x240px, UEXT
Tactile 2.8" touch color display
320 x 240 pixels
SPI interface
ILI9341V driver
Resistive film AR1021
UEXT (SPI + I2C)
Secure payments
Payments are secured by LyraCollect, a French payment collection company.
Multiple delivery solutions
It is possible to delivered to your home, to a pick-up point or picked up by appointment at MCHobby
Parcels packed with care and efficiency
We prepare, pack and ship your orders with great respect and care.
Description
A 2.8" LCD color display with UEXT connector
Quickly add a 2.8" color display to your project thanks to the universal UEXT connector.
Based on the ILI9341V display controler and resistive touch screen (with its AR1000 controler), you can drive your app with your finger. The AR1021 is connected on the I2C bus (0x4D).
Thank to the UEXT connecteur, this screen is quite easy to plug on any plateform microcontroler offering this connectivity. With some Dupont wire, you can quickly wire this display on any microcontroler.
UEXT pin assignment:
3: LCD BL (BackLight)
4: Touch IRQ
5: Touch SCL
6: Touch SDA
7: TFT Data/Command
8: TFT MOSI
9: TFT SCK
10: TFT CS
What's UEXT ?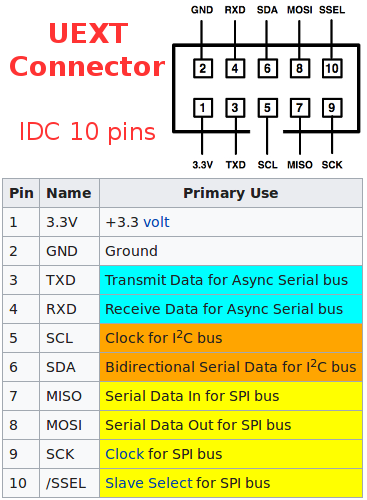 UEXT is a connector carrying I2C bus + SPI bus + Serial + 3.3v power. It use a very standard 10 Pin IDC connector. It is quite easy to add sensors and extension board with UEXT connector... just plug it or wire it with IDC ribbon! Great.
Our favorite is the carrying of I2C bus allowing to easily add several sensors and expansion board. On the other side, SPI would be welcome for fast data transmission like remote screen. The serial connexion could be made compatible with RS-232, RS-422, RS-485, DMX512, MIDI by using appropriate level-shifting circuitery.
This connector is usually available on almost Olimex's product including nano computers. It is a great way to add extension boards on products like ESP8266 WiFi microcontroler or microcontroler board. UEXT is suited for prototyping, school learning (no need for iron) and industrial solution (Olimex produces Industrial Grade boards).
See our UEXT expansion or all products exposing UEXT connector on the shop, the Olimex's UEXT collection, Wikipedia to learn more about UEXT.
Technical details
2.8" color TFT display
resistive touch screen
320*240 pixels
LCD size: 69 x 50mm
PCB size: 86 x 50mm
Мount holes: 78 x 42 mm
UEXT connector
10-pin ribbon cable with IDC connectors
Display (datasheet)
AR1000 (touch support) (datasheet)