Raspberry Pi 4 - 4 Gb - Mediacenter WHITE kit (Pi incl)
A kit to easily create your own MediaCenter with the Raspberry Pi 4 - 4 Go (included).
Create a 4K media system in a minute: H.265, 4K, H264, avi DivX, XVid, MKV, mp4...

Secure payments
Payments are secured by LyraCollect, a French payment collection company.
Multiple delivery solutions
It is possible to delivered to your home, to a pick-up point or picked up by appointment at MCHobby
Parcels packed with care and efficiency
We prepare, pack and ship your orders with great respect and care.
Description
A Pi 4 multimedia player, 4Gb of RAM, supporting 4K and a multitude of formats - white version
The 4K is up-and-coming these last years. It's true that with the ever larger size of the screens, the arrival of the 4K format makes it possible to have a clear image even on a very large surface (provided to have a source in 4K / H.265).   
Looking for an attractive 4K solution? Look no further, you have just discovered the Raspberry-Pi 4 with 4 Gb of RAM, the Media Center with 4K capabilities to realize multimedia installations at a price perfectly correct! 

As the RAM is still shared between the CPU (processing unit) and the GPU (Graphical unit), a media kit with 4 Gb of RAM is appropriate for an intensive 4K usage solution.
Please note: 4Gb of RAM is also suited for intensive Internet browsing.
At the heart of this solution is the Raspberry-Pi 4 with 4 Gb of RAM, the world's most famous nano-computer that offers a whole new hardware architecture... nothing to do with the previous models. See our detailed explanations on the Raspberry Pi 4 with 4 Go RAM product sheet.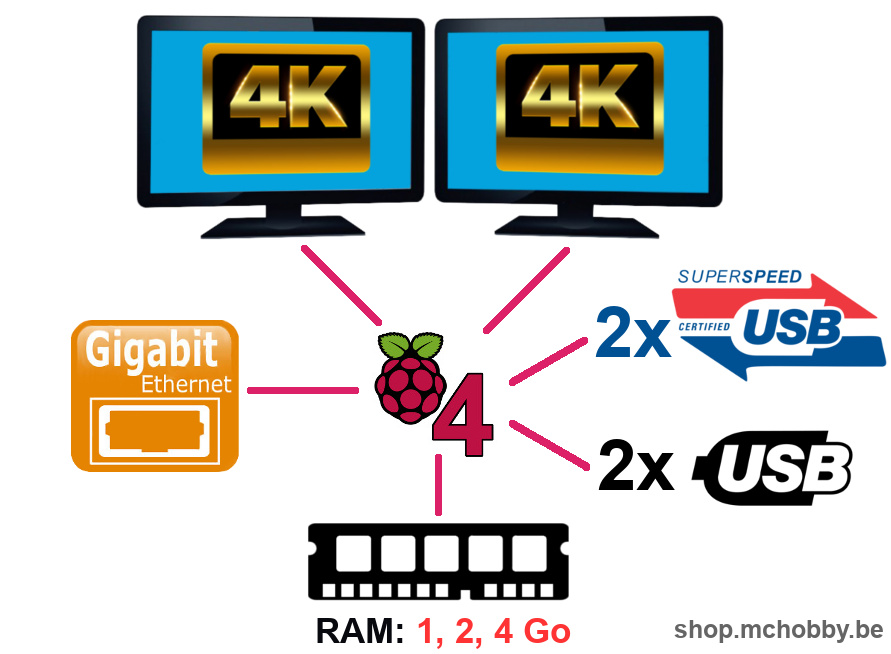 This Media Center kit is compatible with any television or screen with an HDMI plug.
Only quality material specially selected to create your multimedia player yourself and easily... with an affordable price and something not common, a 16 Gb card in class 10 Ultra High Speed (UHS)... 
This 16Gb card included in this kit is preformatted with Noobs allowing you to test alternative operating systems while preserving your everyday operating system on your card. An excellent tool to begin your explorations.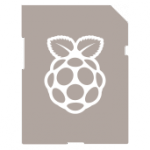 NOOBS
is the acronym of "New Out Of Box Software". It's a card specially designed to make the first start of a Raspberry-Pi much more accessible, without technical manipulation. Insert the card into the Raspberry-Pi, then turn on the card. The startup screen guides the user step-by-step on first boot to choose the operating system to test.   
A new version of Noobs (after 24/06/2019) is absolutely essential for the Raspberry-Pi 4.

Newcomer ? Don't panic !
For newcomers in the world of Raspberry? don't panic, there is many good book in english. For French speaking poeple we warmly recommend the book "Raspberry Pi 4 - Exploitez tout le potentiel de votre nano-ordinateur" currently being finalized by François Mocq (website Framboise314.fr). It will soon be published by ENI (you have to give François Mocq a little time to finalize his chapters). An essential reference concerning the Raspberry-Pi. 
Tutorials
MC Hobby also propose you to follow simple tutorials to guide you in the realization of your Media Center kit and your projects with the Raspberry-Pi. These tutorials for Raspberry-Pi 3 will also be suitable for the Raspberry-Pi 4.  
MC Hobby propose a French Wiki with freely accessible information.
Adafruit Industries USA offers toons of English tutorials including the Raspberry-Pi
Raspberry has a very active community, the Net is an inexhaustible source of information. Don't hesitate to consult François' website... Framboise314.fr   
Content of the Media Center Kit
Click on the links for more details on the product mentioned.
Suggestions
Behind this very attractive Raspberry-Pi 4 Media Center Kit, you could add a few add-ons to explore the Raspberry-Pi's many areas of activity. All at a reasonable price:   
A SSD drive? Why not!
The Raspberry-Pi 4 is a powerful machine but still equipped with a micro SD card to load the operating system and user files. This allows for a standalone card at a low price. Nevertheless, this remains a bottleneck in performance.
So, you could offer an SSD to your Raspberry-Pi with a USB 3 SATA USB 3 controller, which ensure a transfer rate of up to 350 Mb/s.