Create a powerful 8 cores GameStation with the OGST kit for ODROID XU4
The dreams product for Retro-Gamers! This is a kit to build your own Odroid Game Station Turbo console (OGST for short) propelled with the powerful ODROID-XU4 (XU4 or XU4Q).
The case is designed to stylish the old school game console and mould into to offer a very nice finish. That's really a great design style!
This kit allows you to wire up to 4 USB joystick like the extraordinary GameSir G3w joystick(tested on the kit) or more common USB gamepad.
The console also include a 2.4" TFT mounted on the front panel. This LCD can be used to show custom content (displayed by programs) like animated game logo.
The front panel also offers 2 buttons: one for the power control and a second one free for use (programmable by the user).
The box did reserve enough space on the bottom of the case to store an 2.5" USB HDD. A gargantuan storage space for ROMs and emulators.
Do not hesitate to visit the OGST wiki to get more information about this kit, assembling, os installation, etc.
This product is a kit!
This product is a kit to build a game console around an XU4 you may already have. The following products must be purchased separately: Odroid XU4, Power Supply, the optional Hard drive, the eMMC or SD card to store the operating system, USB joysticks.
OGST - ODroid Game Station Turbo
ODROID GameStation turbo is an ODroid XU4 image for enterainment.
Including Kodi, the project was designed as a gaming image for retro gamers and children but did rapidely evoluate far behind that.
OGST is now more than a retro-gaming solution since it is also a full desktop and entertainment system offering the following capabilities:
A full environment desktop made around MATE Desktop
Web browser
Music listening, watching movie (KODI)
Play games
Office working
Programming
The X11 server offers 3D acceleration allowing you to run 3D games and hardware accelerated applications.
Emulation Station can be used as Front-end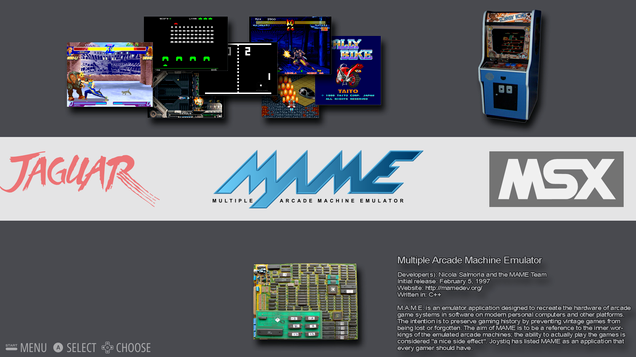 The XMBC/Kodi offers a Rom Collection Browser allowing to switch easily between gaming et movie watching from within the same interface.
You may learn many more from this topic on the ODroid forum.
Technical details
Works with ODROID Game Station Turbo (OGST) Operating System Image
See ressource section
LCD 2.4" to display programmable game logo animation
Four front USB ports - for convenient  USB joysticks connection
Power: typical 250mA under 5V (for the LCD and USH Hub)
Easy to embed a 2.5" HDD (not included) to store your huge ROM collections
Two front buttons: Power switch and user programmable switch
Dimensions: approximately 180 x 65 x 150mm
Weight: ~250 grams
Content
The case (made of 2 parts, the top and the bottom)
The front board with 2.4" LCD + 30-pin flat cable
An USB 2.0 cable (to wire the front panel USB on the XU4)
Cover for USB-port
Rubber feets
Screws
An USB 3.0 extension cable (if you want to use an optional  2.5" USB hard drive)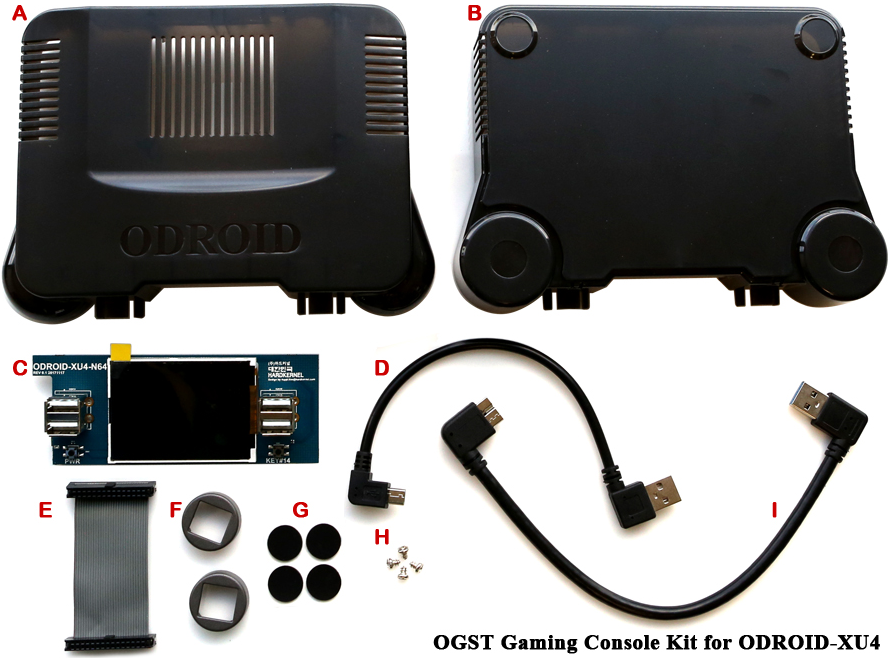 A. Top part of the case
B. Bottom part of the case
C. LCD board for the OGST-XU4
D. USB 2.0 Extension cable
E. 30 pins flat cable
F. Covers for the USB ports
G. Set of rubber feets
H. Screws
I.  USB3.0 Extension Câble (for your 2.3" optional external hard-drive)