BLACK Raspberry Pi 4 Kit with 8Gb of RAM to start quickly
The all-new Raspberry-Pi 4 brings many technical revolution, new power supply, new connectors, ...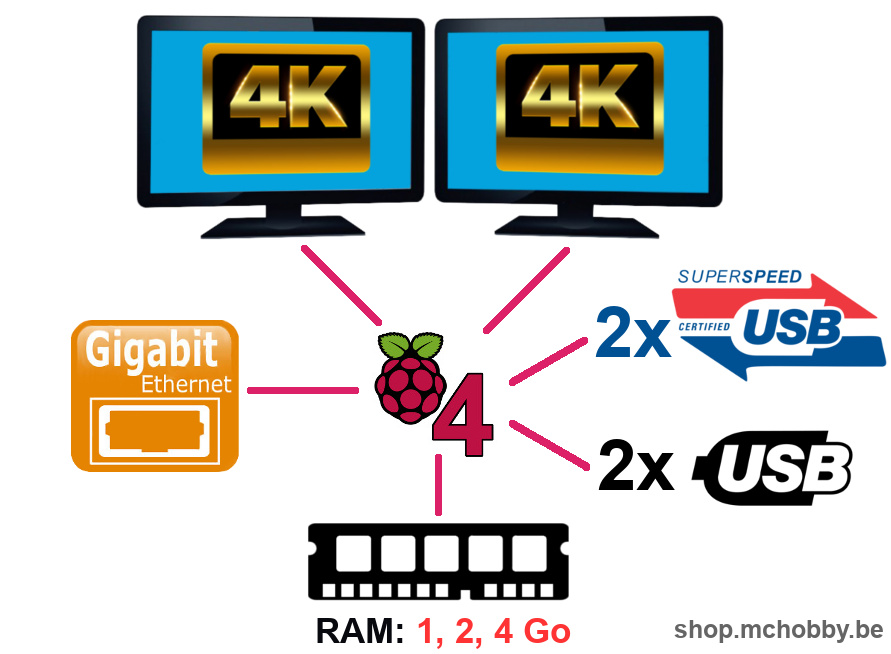 This kit contains the essential elements to start quickly with the Pi 4 without forgetting anything essential.
The different elements have been selected with care to ensure the performance of the Pi 4 and the promise to not forget anything essential.
This kit doesn't contain a case (the Pi 4 has changed form factor), we strongly advise you to choose a case for Pi 4 here to protect it from accidental contacts.
We know it is always possible to offer entry-level products at an unbeatable price but what is the point of offering poor quality products?
We are deeply convinced that we will all be losers if you are disappointed with your purchase.
Thus, we decided to preserve the essential that is to say the vital elements of quality (hence the name of this pack).
Use for the Pi 4 with 8Gb RAM
All uses that you made with a 1Gb Pi 3 model but with 8Gb of RAM, the application field is already very wide but what can we expect from a 8Gb model.  
It will be suitable for the following uses:
Intensive internet browsing very greedy in RAM.
Alternative to the desktop computer for semi-intensive use.
Media center oriented 4K in intensive use.
Use with two screens oriented 4K in office application / desktop computer.
Mini network server with an unbeatable Price / Performance ratio (or almost). Want to set up a mini WEB server? A network DB? At a broken price? Try the Pi 4 8Gb.
Solutions, developments and resource-hungry applications!
The Pi 4 with 8Gb of RAM has nothing to envy to an entry-level notebook PC. 8Gb of RAM will offer a very comfortable use and a SSD in USB 3 is more than recommended. It is useless to have a high-performance card if the disk access is poor (for example: loading from the Micro SD card). Using a SSD in USB 3 will make the most of architecture and RAM available on the system. 
With 8Gb of RAM and its new architecture, the Pi 4 can reasonably claim the implementation of mini-desktop PC and mini application server PRO.
What is this kit made of?
This pack doesn't include a case but know that we offer several models on our WebShop, remember to protect it to avoid accidental short-circuits.
Stock, real!
We only sell on physical stock. When you place an order with MC Hobby, you will be delivered without having to wait for an indecent time.
Legal documents