Transform your Raspberry-Pi or MicroPython board into a small PLC
UniPi is an extension board for Raspberry Pi allowing you to create a small Programmable Logic Controler.
UniPi is a powerful unit made to increase the comfort of an existing installation whilst it maintains the hardware cost as low as possible. This is the LITE version of the UniPi, a lighter version of the UniPi board.
Combined to a Raspberry Pi, the UniPi metamorphose the whole into a programmable unit. A tools to controle part of the house, controle some part of a project or create an Internet Of the Things objects (which can be used to contrôle very big objets).

With UniPi, you can automate the heating system, controle some lightning or water distribution, controle the garage door and many other applications. (See this UniPi cases studies on the UniPi's sute).
As the UniPi v1.1, the UniPi Lite is compatible with the Raspberry Pi modèle B+, Raspberry Pi 2 and Raspberry Pi 3.
Also for MicroPython
At MCHobby, we have the UniPi-MicroPython-Automation (GitHub) project and interface board to use the UniPi with MicroPython microcontrolers:
What's inside an UniPi?
6 × relais : dual throw (250V AC/5A -ou- 24V DC/5A)
6 × digital inputs : to read signal coming from external devices. Using galvanical protection via optocoupler. Trigger the input with a voltage between 5 and 24V DC. 12 inputs + 2 inputs.
1 × 1-Wire connector : (RJ45) to connect 1-Wire peripherals like temperature sensor, humidity sensors.
1 x port "GPIO CON" : the Raspberry-Pi is connected to the UniPi Lite with a ribon. However, some GPIO are still available for your own application, it is the raison of the existence of the "GPIO CON" connector. You can use it to re-use the free GPIO.
1 x 12V generator : this 12V output is used to activates the digital inputs of the UniPi Lite board.
Softwares
UniPi v1.1 is compatible with numerous software.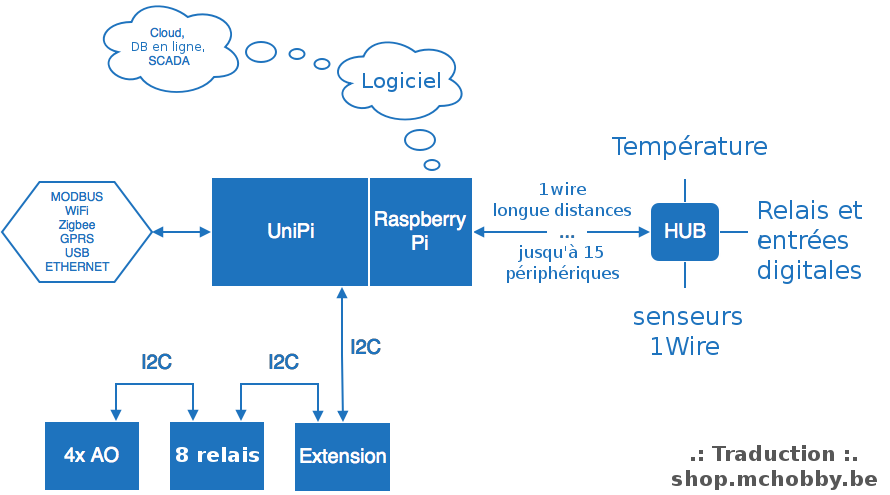 You have the following options to take the control of your UniPi:
UniPi under MicroPython
The UniPi board can be controled with a MicroControler running under MicroPython, see the UniPi-MicroPython-Automation project on the MCHobby's GitHub and its interface board.