ODroid GO - RetroGaming station ESP32
A retro gaming console able to emulate several gaming stations
12.1 x 7.6 cm (1.6 cm tickness)
2.4" color display (320 x 240 pixels)
Emulator: Game Boy, Game Boy Color, Game Gear, Nes, Sega Master
ESP32, WiFi, Bluetooth 4.2.
As kit
Secure payments
Payments are secured by LyraCollect, a French payment collection company.
Multiple delivery solutions
It is possible to delivered to your home, to a pick-up point or picked up by appointment at MCHobby
Parcels packed with care and efficiency
We prepare, pack and ship your orders with great respect and care.
Description
ODroid-Go, une puissante pateforme de RétroGaming à base d'ESP32
The ODroid manufacturer did create a great retro-gaming kit solution. Based on the ESP32 processir, the ODroid-GO is able to emulate many game consoles as Game Boy, Game Boy Color, Game Gear, Nes, Sega Master.
Fit with a 2.4" color TFT (320 x 240 pixels), buttons and directional cross pad, the ODroid-GO is really looking like a GameBoy's kinship (but many time powerful).
This powerful configuration is suported by a microSD card connector to store files and games, an ESP32 processor clocked from 80 to 240 Mhz, a WiFi and Bluetooth 4.2 (thanks to the ESP32) and a Lipo battery ensuring up to 10 hours usage (battery charged via the microUSB connecto).
The ODroid-Go would also please the makers as it also offers a 10 pins expansion connector (including an I2C bus) and Arduino projects available on the ODroid's Wiki (see the introduction guide on the ODROID-GO wiki page).
Using this kit requires a 8Go microSD card (or more) to make this produit running.
Project in Kit
This project is designed as an experiment: assemble it to discover the world of makers, play with it as reward and then discover the Arduino project if you are curious  (the ODroid-Go then become an experimentation plateforme).
No need to be an expert to assemble the kit. A bit of patiente and following the assembly guide with care should be sufficient.
See the assembly instruction on the ODroid's Wiki, see also the assembling video for the LCD.
In video
ODroid did publish presentation video about the ODROID-GO. You can view them by clicking on this link.
Technical specification
Micro controller:


ESP32-WROVER with 16MiB of Flash Memory
CPU: from 80 to 240 Mhz (adjustable)
RAM: 4MB PSRAM (Pseudo Static Random Access Memory, high density ral).

Displat: TFT LCD 2.4", 320x240  pixels, SPI interface
Battery: 3.7V 1200mAh. Up to 10H of games.
MicroSD: Interface SPI (20 Mhz)
Expanding port: 10 pins, 3.3v, GPIO, I2C & IRQ.
microUSB: to charge the battery (500mA), serial/USB converter
Dimensions: 7.6cm x 12.1cm (tickness 1.6cm).
Weight: ~200gr.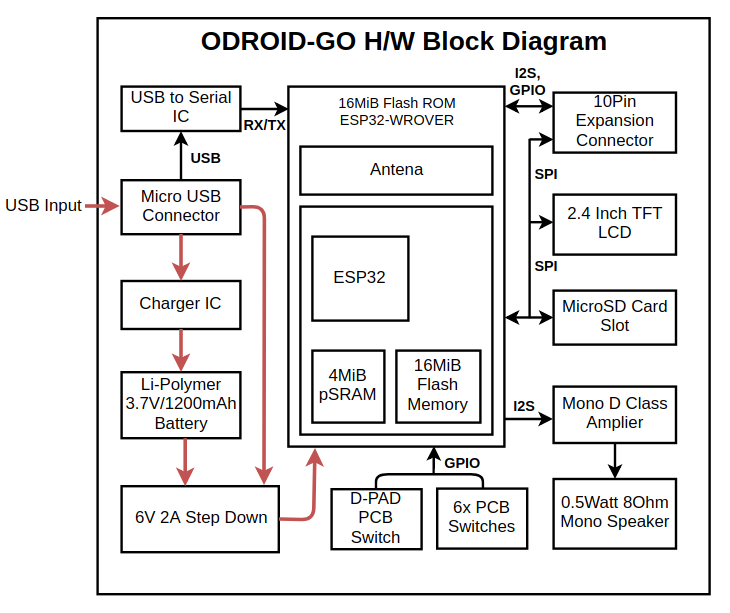 Content
For each order, you will receive the following items:
A: 1x ODROID-GO board
B: 1x Case front part
C: 1x Case back part
D: 1x LCD 2.4" LCD display
E: 1x4 caoutchouc buttons 
F: 1x2 caoutchouc buttons
G: 2x2 caoutchouc buttons
H: 1x 0.5W Loud Speaker(8 Ohms)
I: 1x 10 pins male connector
J: 10x screws
K: 1x LCD screen protect
L: 1x set of buttons
M: 1x MicroUSB cable (black or white)
N: 1x Li-Ion battery 1200mAh
Legal documents