Description
Create your own high performance RAID NAS server with an XU4 + CloudShell 2
The CloudShell2 Case 2 is new design of the original CloudShell2  acrylic case.
With the CloudShell-2 Case2 + an ODROID-XU4 (XU4 not included) you can create an affordable DIY Network Attached Storage (NAS) Solution with RAID support.
RAID is an useful data storage technologies and the cloud shell support the RAID-0, RAID-1 and SPAN modes. Thanks to the JMicron JMS561, a USB 3.0 to SATA bridge, the CloudShell-2 can supports UAS (USB attached SCSI) or USAP allowing the installation of a dual 3.5" SATA HDD/SDD storages to create a RAID storage. The CloudShell board is wired on the USB3.0 port of the ODroid XU4.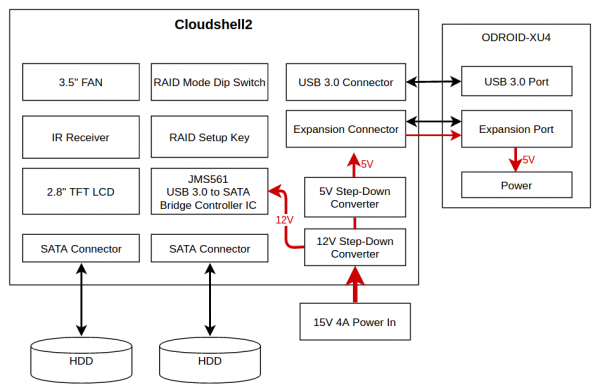 The CloudShell includes a 320x240 color LCD that can be used to display statistic abour SDD and Operating System.
The board also includes an IR receiver on the front.
Technical details
Storage
2 Drive Bays
Supported size : 3.5" SATA HDD
SupporteD RAID
RAID TypeBasic(PM)
SPAN
RAID 0
RAID 1
Appearance 
Color: Clear, Smoky Blue
Size (Height x Width x Depth): 140 x 110 x 221.5 mm
Weight: 0.64kg(without HDD)
Others
Fan 92 mm x 92 mm (cool and quiet modes)
IR Receiver (remote controller not included)
TFT LCD 2.8" 320x240
Power supply
15V/4A Power Supply (included with the power cord)
Do not apply a power voltage higher than 16 Volts.
Content
The cloudshell2 case 2 with acrylic items, screws, cloudshell board, fan and power supply with the 3 pin power cord.
The following items are not included and must be purchassed separately