IO Expansion HAT (Gravity) for Raspberry Pi / Pi Zero
IO Expansion HAT (Gravity) with PWM & ADC for Raspberry-Pi
10x digital input/output
4x analog input (via STM32)
4x PWM outputs (via STM32)
2x I2C bus
1x UART bus
1x SPI bus
Also known as DFR0604
Secure payments
Payments are secured by LyraCollect, a French payment collection company.
Multiple delivery solutions
It is possible to delivered to your home, to a pick-up point or picked up by appointment at MCHobby
Parcels packed with care and efficiency
We prepare, pack and ship your orders with great respect and care.
Description
Ease the Raspberry-Pi prototyping with Analog and PWM capable hat - compatible with Gravity boards
This IO Expansion HAT provides easy access to digital, analog, I2C (also named IIC), PWM, UART and SPI ports of your Raspberry-Pi with an pretty easy to use connectors.
Please note that it brings 4 analog input to the Pi + 4 PWM outputs thanks to the STM32 microcontroler present on this hat.
Following the Gravity connexion principles, all connexions points are:
provided at 2.54mm spacing connector
with power and ground
with easy to read labelling
This small board is perfect for Raspberry Pi Zero W (can also be used with standard Raspberry-Pi). The board leads out the I/O ports on Raspberry Pi I2C/UART/SPI but also breakout several Raspberry-Pi's digital I/O GPIO16~GPIO25.
The STM32 communicates with the Raspberry-Pi via the I2C bus. The DFRobot libraries allows the user to conveniently control the PWM output or read ADC input.
Content
For each order, you will receive a IO Expansion HAT. Raspberry-Pi, cables, prototyping board not included.
Features
22 Ports:


4x PWM ports,
4x Analog ports,
10x Digital ports,
1x SPI,
2x I2C ports,
1x UART

Power Supply: 5V
External Power Supply: 6-12V for PWM/Servo. Common servos are using 5V.
On-board MCU(STM32), provide 12 bit 8 channel ADC (connector to Raspeberry-Pi via I2C)
Multiple Servos Controlling
Compatible with Raspberry Pi 4 Model B/Raspberry Pi 3B+/2 and Raspberry Pi Zero/ Zero W
Device Address: 0x10 (on I2C bus)
Dimension: 65x30mm
About the gravity connection
The Gravity is a modular and plug and play electronic toolkit made for easy use (no soldering). Gravity is suited for any king of skill level and can be used with DFRobot board or with standard propotyping devices.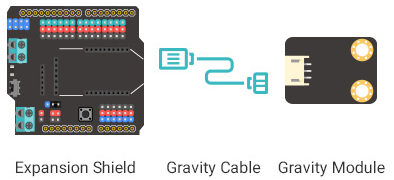 The Gravity sensor board features a JST connector and microcontroler side features a molex 2.54mm spacing female connector. The Gravity cable includes with the gravity module (the sensors) can also use the 2.54mm connector to connect the sensor directly on ANY KIND of microcontroler or prototyping materiel (glorious!).
To made it simple, the Gravity connector and expansion shields use color coded pins:
Red & Black : +Vcc & Ground
Blue : Analog input
Green : Digital input/output
Gravity is even made simplier for kids with gravity expansion for Micro:bit since it feature the JST connectors on the both side of gravity cable (micro:bit side and sensor side). MicroPython addicted would be pleased with the Gravity Skin for Pyboard.